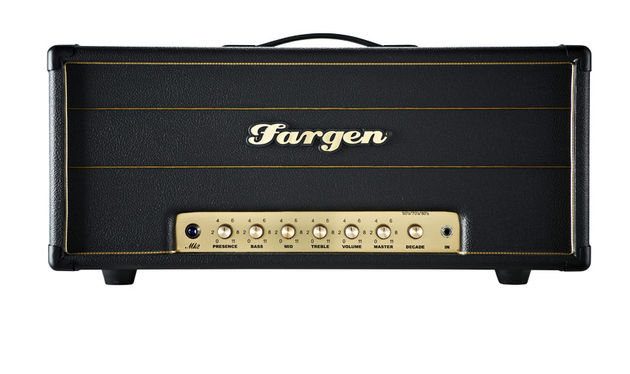 The Fargen Olde 800 MKII is a true hand-wired, high-gain masterpiece that offers you some of the best clean and crunch tones from when rock ruled the world!
The Olde 800 MKII has that classic high gain British rock sound similar to a JCM 800 but with added sustain and super thick harmonic crunch tones. The Olde 800 MKII also achieves smooth, fat, clean tones reminiscent of classic non-master volume British amps. Our superior component quality and sound design choices make it one of the best high gain rock amps available today. The addition of the versatile Fargen "Decade Switch" gives you 25% more gain on tap in the 80's setting than previously available on the MKI version.
The Olde 800 MKII is available in either 25 watts or 50 watts. Both have the same exact specification – just choose your wattage when you place your order.
The Olde 800 MKII also has exciting new upgrades and features:
Custom Mercury Magnetics transformer set
SoZo vintage style mustard capacitors
Fargen Custom Shop resistors
DC Filaments for ultra quiet operation
1/8″ aluminum chassis for the true vintage British amp sound
New and improved 3 position rotary decade switch that alters the circuit for true 60-70-80 Marshall style tones. (JTM 45 / Plexi / JCM 800)
Passive FX Loop
Fargen Olde 800 MKII 25 Watt Specifications:
Dimensions: 25"W X 11"H X 10″D
Weight: 35 lbs.
Output Power: 25 watts
Tube Complement (3) 12Ax7,(2) EL34
Class: AB – fixed bias push pull
Front Panel Layout & Equalization: decade switch, drive, master, treble, mid, bass, presence
Fargen Olde 800 MKII 50 Watt Specifications:
Dimensions: 25″W X 11″H X 10″D
Weight: 35 lbs.
Output Power: 50 watts
Tube Complement (3) 12Ax7,(2) EL34
Class: AB – fixed bias push pull
Front Panel Layout & Equalization: decade switch, drive, master, treble, mid, bass, presence
MSRP Pricing:
Olde 800 MKII Amp Head » E-Mail for pricing
Video: